Founder & Visionary MV700VN/V000001
Marian von Rappard, driven by curiosity
Driven by my curiosity to discover the world, I left Germany in 2007. In 2010, I set up a denim factory in Vietnam to produce products for European brands: Evolution3. In 2015, together with two friends, I started DAWN, a fair fashion label for contemporary cut jeans.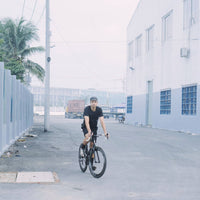 Passion
My passion for cycling came from the need to do something for mind and soul - and quickly became a passion. Adrenaline, the feeling of freedom - I quickly felt the desire to combine cycling and my daily work. So many people use the bike every day - the need for special clothing tailored to the needs of urban cyclists is correspondingly great, with technical details such as reflective elements for greater safety at night.
My vision?
Producing clothing where you don't have to compromise to go cycling, that is individual and has an identity: urban streetwear for cyclists - modern, dynamic and sustainable.
Linda Mai Phung
In HCMC I met Linda, a French designer who is also convinced of the idea of creating sustainable and functional fashion. Perfect to launch a label that stands for the vision of a future where urban cycling has a permanent place in daily life: SUPER VISION.

After months of collaboration with many talented partners, collaborators and fabric factories in Berlin, Sai Gon, Amsterdam and Shanghai, today I am very proud to have launched a new label that reflects the values of design, function, performance and sustainability. It's a fantastic feeling to start this journey!
5 Questions for Marian von Rappard
Question 01
What goal do you want to achieve with SUPER VISION?
Answer: Change the world! We want to create awareness for ecological and social challenges with SUPER VISION. We just want to show that comfortable clothing for cyclists doesn't have to be boring. We want to make streetwear for a new generation of cyclists who have grown up with the bike. Urban cyclists who see the bicycle as the number one means of transportation and don't need a car - because it's just not good for the environment and thus for our future.
Question 02
What motivated you to start SUPER VISION?
Answer: I love cycling. Being free, discovering nature, pushing my limits. As a fashion producer, I especially like working with high-tech fabrics and sustainable materials inspired by cycling. I want to encourage to change the world through the story and values of SUPER VISION.
Question 03
What should people love about SUPER VISION?
Answer: SUPER VISION is a young label, but our goal is clear: we want to design cool streetwear for everyday heroes and heroines for whom the bicycle is the preferred way of commuting in the city. Urban cycling is important for a healthy lifestyle and therefore one of the values of our SUPER VISION.
Question 04
What do you want people to feel when they come into contact with SUPER VISION?
Answer: We want our customers to see that their choices have an impact and that change is possible. We want to inspire them to spread our vision and for them to see our brand and our products as an example that together, as visionaries, you can positively impact the world. Through our transparent communication, we want to encourage as many people as possible to make sustainable choices to do something good for the community.
Question 05
Is there anything that others might criticize about this approach?
Answer: Of course, there is always criticism. For example, "Fashion can't really be sustainable, why don't you just plant trees instead?" To this I can only say, "Maybe we'll still do that!" For us, the launch of SUPER VISION is just the beginning. We want to grow organically and slowly develop our ideas and visions. This also means that we are ready for change. After all, this willingness to change is enormously important in order to be able to operate sustainably as a brand. You have to be able to react to new conditions, create ideas, adapt products and always have your finger on the pulse. That is one of the principles of our SUPER VISION.