What drives us
We're on a mission to override the negative impact of the fashion industry.
To do so, we draw energy from your deep love for cycling which we share with our crowd. SUPER VISION believes the culture of cycling is a perfect breeding ground for a conscious fashion revolution. Thus, we want to get more people onto their bikes, more often. We won't stop trying until the world is a better place. We are unshakable in our beliefs and take the hard route over the easy way out. Every. Single. Time.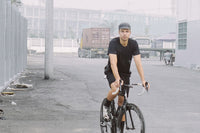 Visionaries
We are building a community to support our mission. Learn more about the Visionaries Club, join our ride.